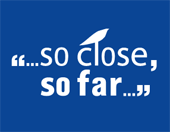 NON-PROFIT ORGANIZATION "SO CLOSE, SO FAR"
Contemporary Bulgarian Artists with Exhibition in Berlin - "Fragmented Histories: Sofia-Berlin" /"Fragmentierte Erzählungen: Berlin-Sofia"/
сряда, 16 август 2017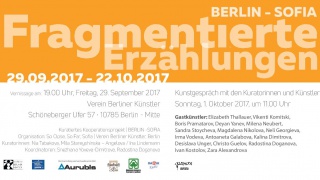 Exhibition opening Berlin: 29 September, 19:00 h.
Gallery Verein Berliner Künstler
In 2017 the non-profit organization So Close, So Far expands its activities with the initiation of two group exhibitions in Sofia and in Berlin. The aim of the exhibitions is to strengthen the organization's position as a driving force in the art scene in Sofia and to present its activities in Berlin. The exhibition "Fragmented Stories: Sofia-Berlin/ Fragmentierte Erzählungen: Berlin-Sofia" is the latest project of the non-profit organization So Close, So Far that initiates the joining of different fragments through two group exhibitions of contemporary artists from Bulgaria and Germany, which will take place in Sofia and Berlin in 2017. The exhibition aims to enrich the art scene in both cities by presenting contemporary German artists from the Berlin art scene in July in Sofia and in September contemporary Bulgarian artists in Berlin.
The fragmentation of time and space are notable characteristics of our contemporary lives. The connections between real and virtual, natural and urban, history and myth seem to have multiplied and make the easy and quick transition between one reality and another even more accessible.
Between September 29 and October 22 in Berlin with an exhibition at the Gallery of the Union of Berlin Artists will be represented 16 contemporary Bulgarian artists with their conceptual works, paintings, ready-mades and installations.
The project is organized by the non-profit organization So Close, So Far in partnership with the Union of Berlin Artists, Goethe-Institut Bulgaria, Sofia History Museum and National Agency for Bulgarians Abroad. Coordinators of the events are: Snezjana Joveva-Dimitrova and Radostina Doganova. Kurators: Mila Stareyshinska-Angelova, Nia Tabakova/ Ina Lindemann.
General sponsor of the initiative is Aurubis-Bulgaria, which supports the popularization of contemporary art in Bulgaria.
The complete list of the artists, participating in the upcoming exhibition, can be found here:
Berlin: Elizabeth Thallauer, Vikenti Komitski, Boris Pramatarov, Deyan Yanev, Milena Neubert, Sandra Stoycheva, Magdalena Nikolova, Neli Georgieva, Irma Vodeva, Antoaneta Galabova, Kalina Dimitrova, Desislava Unger, Christo Guelov, Radostina Doganova, Ivan Kostolov, Zara Alexandrova.