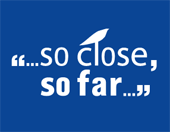 NON-PROFIT ORGANIZATION "SO CLOSE, SO FAR"
CONTEMPORARY BULGARIAN PAINTINGS IN A BOUTIQUE GALLERY IN GENEVA
понеделник, 5 ноември 2018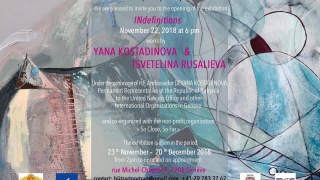 BLITZ ART PORTRAIT Gallery- contemporary art space
22.11-25.12.2018, Geneva
Opening:22 November 2018, 18:30
Under the patronage of her Excellency DEYANA KOSTADINOVA,
Ambassador, Permanent Representative of the Republic of Bulgaria
to the UN Office and other international organizations in Geneva
"INdefinitions" is an exhibition which was jointly prepared and realized by the Organisation "So close, so far" - a non-governmental organization that supports the promotion of contemporary Bulgarian art and our artists abroad as well as in Bulgaria, and BLITZ ART PORTRAIT Gallery - Geneva.
The two Bulgarian artists, Yana Kostadinova and Tsvetelina Rusalieva, make their debut on the stagein Geneva with the creative concept "INdefinitions," they will present paintings and drawings,carrying messages of spirituality, elevation, humility and femininity. Theyapproachtheir concepts and understandings in painting through the theme of images and lines in an illusory framework. We all live in some kind of framework – be it conditional or real, related to everyday life, emotional, geographical or physical. Their work contains messages and meanings set within a certain framework and these boundaries are conditional - the vitality of their creative passion and talent cross borders, inspire and take form.
Miglena Savova Auclair is the curator of the exhibition, as well as the creator and artistic director of the BLITZ ART PORTRAIT Gallery, a boutique gallery in Geneva, Switzerland. The art manager of the project is Snezhana Yoveva, Deputy Chair of "So Close, So Far."
The event is under the patronage of her Excellency Deyana Kostadinova, Ambassador, Permanent Representative of the Republic of Bulgaria to the United Nations Office and other international organizations in Geneva, with many Bulgarians from Switzerland and France as well as connoisseurs of the contemporary art.
About Yana Kostadinova:
Yana Kostadinova was born on January 9, 1972. In 1996 she graduated from the National Academy of Arts, with a major in "Stage design" under Prof. Georgi Ivanov. She started her professional career during her studies at the Stoyan Bachvarov Drama Theater in Varna and the N. O. Masalitinov Drama Theaterin Plovdiv, and was appointed as a permanent stage designer in the latter.
Her scientific research led her back to the Academy of Arts, where in 2003 she defended her doctoral dissertation on "The Bulgarian fashion and theatrical costume in the projections and aesthetics of art nouveau." In 2001 she was invited as a lecturer and since 2005 she has been a regular teacher of "Costume History" at the Fashion Department of NAA.
In 2007, her book "The Bulgarian and West European Costume in the Projections and Aesthetics of Art Nouveau" was published. Yana Kostadinova's first solo exhibition is "History in Collages" at the Artur Gallery in 2011. She works both in the field of painting and in the field of fashion and experimental jewelry. Her exhibitions are finished concepts that often include paintings, clothing and jewelry. She uses classical means of expression and often provokes with non-standard solutions and materials, using paper to make garments and jewelry. Her last exhibitions show her in a classical light. The paintings of Yana Kostadinova are owned by private collectors in the country as well as in Germany, Russia and America.
About Tsvetelina Rusalieva:
Tsvetelina Rusalieva was born on July 18, 1973 in an artistic environment, a family of artists, descendants of the old Bulgarian family Rusalievi. She convincingly occupies her characteristic place among modern Bulgarian artists. She has made several solo exhibitions in Bulgaria and abroad. Her plots do not need description and decoding, they are impressions built on the color palette that turn chaotic visibility into an organic whole. The artist has had exhibitions in Berlin, Saarbrücken, Palermo and New York and has participated in the prestigious Architectural Digest Home Design Show in New York and Miami in 2015. Tsvetelina Rusalieva is the founder and artistic director of "Sofia Gallery of Contemporary Art" and of the Bulgarian Gallery for Contemporary World Art in Rome - "LUXart - galleria d'arte Luce."
About BLITZ ART PORTRAIT Gallery- contemporary art space
BLITZ ART PORTRAIT is a space for exhibitions and cultural events. In close proximity to the Museum of Natural History, the Orthodox Church and the old town of Geneva, this place of exchange, meetings and dialogues invites you to discover and immerse yourself in the atmosphere of creative thoughts and realizations of contemporary artists. We offer regularly the opportunity to discover interesting artists, young and established contemporary artists, local or international, and to explore their creativity. You will be able to muse on created works in a space devoted to the creative expression and process between the author and the work.
BLITZ ART PORTRAIT is a window to another place where the starting point of every work of art is an emotion, bringing us closer to the sacred moment of creation.
https://blitzartatmosphere.ch/blitz-art-portrait/
E-mail: blitzartportrait@gmail.com
Address: rue Michel Chauvet 6, 1208 Geneva